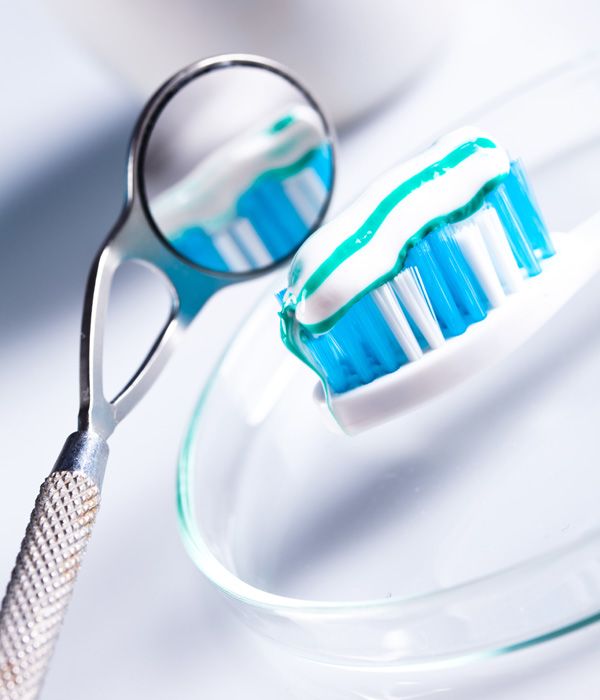 Believe it or not, there's a wrong way to brush your teeth. No, we don't mean not brushing often enough either. If you brush your teeth in a very forceful or aggressive manner, this can lead to damage to the gumline and your tooth enamel. Both of these forms of dental damage means you're doing more harm than good when you brush your teeth, and may require treatment at our Philadelphia cosmetic, restorative, and general dentistry practice.
Here's a telltale sign that you're brushing your teeth wrong: If you gum bleed and/or your teeth feel sore after brushing, you're probably doing harm rather than improving your dental health. Let's explore the issue in greater detail below.
Wear and Tear on Tooth Enamel
When you brush your teeth in a forceful manner, it can lead to serious wear and tear on your teeth. You might be scrubbing away tooth enamel rather than polishing it and keeping it clean. Over time, forceful brushing leads to gradual exposure of the underlying dentin of the teeth. This can cause tooth sensitivity as well as weakening of the teeth, and it also increases the risk of tooth decay and root canal infection.
Gum Recession and Irritation
When the gums are worn or irritated from brushing, the damage can be serious. Bleeding gums means the gum tissue has been damaged. This can lead to gum recession, which means the loss of gum tissue around the lower portion of the teeth. This exposes the tooth roots, leading to tooth sensitivity and making tooth decay below the gumline, loose teeth, and tooth loss much more likely.
There's a Wrong Way to Floss as Well
We should also note that there's a wrong way to floss. If you snap your floss between the teeth and saw down on the gum tissue, you can similarly wear down tooth structure and injure the gumline. This is why it's important to avoid forceful oral hygiene. Brush and floss smart to keep your smile looking its best and being its healthiest.
Tips for Good Oral Hygiene
For effective oral hygiene and preventative care, consider these tips:
Use a toothbrush with soft bristles
Use a toothbrush with a small head to access all surfaces of the teeth and nooks and crannies of the mouth
Be gentle yet thorough when you brush your teeth
Consider a toothpaste that is not too abrasive
Treatments for Dental Damage
If you've experienced serious tooth damage or gum recession from forceful brushing, there are a few restorative treatments to consider to address the harm done.
For damaged tooth structure, there are dental restorations that can prove quite helpful, such as dental fillings, inlays, onlays, and crowns. For gum recession, the ideal treatment option is usually gum grafting, which involves the use of donor soft tissue or artificial gum grafts to rebuild the gumline.
The right treatment option for you and your needs can be determined during the consultation process.
Learn More About Good Oral Hygiene
For more information about good oral hygiene practices and how we can help you have the healthiest smile possible, be sure to contact an experienced cosmetic and restorative dentist today. We look forward to your visit and discussing these issues in much greater detail.