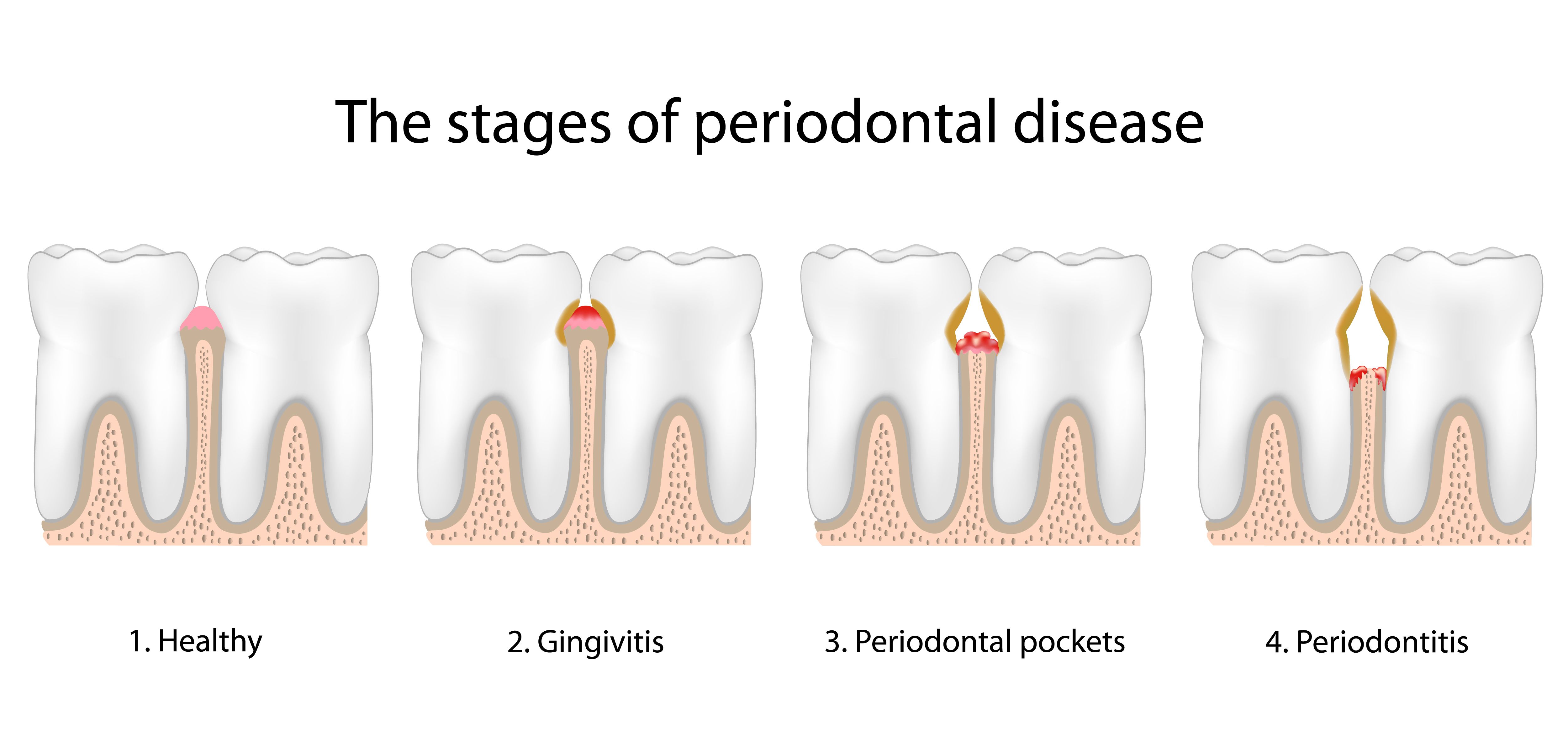 Did you know that gum disease is the most common dental problem in the United States and across the world? Many patients focus on cleaning the teeth during their at-home oral hygiene routine, but they may not realize how important to gums are to good oral health.
At the practice of Gerald Regni, DMD & Associates, Dr. Gerald Regni and Dr. Adil Salik work to educate patients on the importance of good gum health so patients can avoid periodontal treatments such as root planing and scaling and flap surgery. In this blog post, we discuss the stages of gum disease to help patients recognize the signs of gingivitis and gum disease. To learn more about the stages of gum disease, read on, and then contact our Philadelphia, PA practice to schedule your next dental appointment.
Healthy Gums
Healthy gums are pink and firm to the touch. They should provide good support for the teeth, fit snugly against the teeth, and show no signs of recession. To keep your gums in optimal health, be sure to brush your teeth twice a day, floss daily, and use an anti-bacterial mouthwash.
Gingivitis
Gingivitis is the first stage of gum disease. The symptoms of gingivitis include:
Gums that are red or white in color
Inflamed, or swollen, gum tissue
Gums that bleed easily, particularly when flossing
Gum tenderness
Chronic bad breath
Signs of mild gum recession
Fortunately, gum disease is fairly easy to treat. With improved at-home oral hygiene habits, along with a thorough, professional dental cleaning, patients can restore their gums to good health.
Periodontal Pockets
If gingivitis is allowed to progress, a build up of plaque and tartar will accumulate between the teeth and gums, resulting in the formation of periodontal pockets. These pockets grow larger the longer gum disease is left untreated. As bacteria thrive within the periodontal pockets, gum tissue and the other supporting structures of the teeth suffer irreversible damage.
Periodontitis
As periodontal pockets grow, the gum tissue, ligaments, and bone that support the teeth become damaged and deteriorate, loosening the support for the teeth. Eventually, the teeth begin to feel loose, and they are even at risk of falling out.
Additional symptoms of periodontis include:
Worsened gum recession, which make your teeth look longer and expose the roots of the teeth
New, large spaces between the teeth and gums
The development of pus in the periodontal pockets
Chronic bad breath
Pain when chewing
Bite misalignment
Periodontitis is a serious dental condition that should be treated as soon as possible to save your teeth from falling out or extraction. If you have periodontitis, we may recommend a combination of root planing and scaling, flap surgery, currettage, gingivectomy, or non-surgical laser therapy to improve the health of your gums. The elimination of built up plaque, tartar, and bacteria from below the gum line, along with the removal of diseased gum tissue, can improve your periodontal health. In addition, we may have to extract unhealthy teeth and perform tooth replacement treatment to bring your mouth into good health.
To schedule your appointment, contact the practice of Gerald Regni, DMD & Associates today.